Please enter search criteria
---
Get to Campus and beyond with College Pass!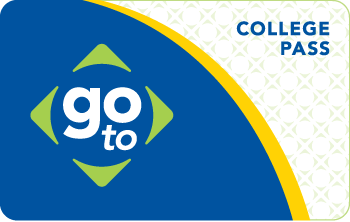 ---
Unlimited rides. One Low Price.
---
Current Semester passes are available In-Store and Online Now!*
$165 - Spring
(Valid between Jan. 1 - May 31)
$165 - Fall
(Valid between Aug. .15 - Dec. 31)
$85 - Summer
(Valid between June 1 - Aug. 14)
*Go-To Passes purchased online cannot be shipped and must be picked-up in-store with a valid student ID $10 and $20 pre-loaded cards are also available in the bookstore.
Requirements
Must be an active Century College Student and enrolled in the current semester
Student ID must be presented to purchase a Go-To College Pass, no exceptions.
All Students must register their cards online with Metro Transit - Here.
Employees are not eligible for the Go-To College Pass, regardless of their student status
Students may purchase only 1 Go-To College Pass per semester
Go-To College Pass is Non-Transferable
Go-To College Pass in non-refundable, no exceptions.
Students must have their Century College Student ID when using their Go-To College Pass.
*lf your status changes for any reason, you Go-To Collage Pass will be deactivated and you will not be eligible fora refund.
**If you drop out, withdraw from all courses, or your payment method is invalid after you purchase the Go-To Collage Pass, it will be deactivated and your student account will be charged for the balance.
***Failure to produce your Century College Student ID upon request by Metro Transit Police will result in a $175 fine.
Bus and Train Use
College Pass cannot be used to pay fares on Metro Mobility or Transit Link. Please used Stored Value Go-To Cards when using these modes.
College Passes are accepted at Northstar stations. These passes are valid for $3.25 toward your Northstar fare; the remaining fare Must be paid using stored value.
If you need to add stored value to your Go-To College Pass, you can do that online –Here
Lost, Stolen, Damaged, or defective Go-To Passes
Defective cards will be replaced free of charge. The pass must be free of creases, holes, and any visible damage.
Go-To College Passes can be replaced once per semester and replacement is subject to a fee.
Lost, Stolen, or Damaged Go-To Passes must be cancelled online through the Metro Transit Website before being replaced
Registered Go-To College Passes will be replaced for a $20 replacement fee once the lost pass has been cancelled.
If the Go-To College Pass is not registered with Metro Transit, the replacement Fee is $140.
Passes are replaced in the Century College Bookstore Only. You must present your Century Student ID.

Registering your pass

Protect your investment! If your pass is registered and it is lost or stolen, you'll receive a replace- ment pass for $20. If your pass is not registered, you will have to buy a new one. Register your pass today.

Adding stored value

Add stored value to your College Pass online, at 612-373-3333, at Metro Transit service centers, at rail station ticket machines or at any Go-To Card retailer. Any stored value remaining at the end of a semester can be transferred to a new College Pass or to a Go-To Card. Call 612-373-3333 for assistance. Do not add stored value to an expired card.
When riding, TEXT 612-900-0411*
to report suspicious or threatening behavior or anything else we should know about so we can send help. *Messaging and data rates apply, refer to your wirelass plan for more details.
Bookstore Hours
Monday 8:00am - 4:00pm

Tuesday-Thursday 8:00am - 4:00pm

Friday, Saturday, & Sunday: CLOSED
For any change in store hours - extended hours, special events, or holiday closures, please see our "Calendar" above.
Contact
3401 Century Avenue North
West Campus
White Bear Lake, MN. 55110
Phone: 651.779.3284
Fax: 651.779.3283